Event Description
Fall Protection Course/Stormseal Training Course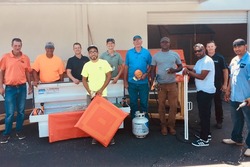 Two-Day Training Course offered through ENSA North America at the Orlando facility:
One day of rooftop safety training - $425 AND One day of Stormseal product training - $465
COURSE OVERVIEW
Stormseal is an innovative, patented, Australian product now being manufactured in the United States. Stormseal is designed to provide emergency storm damage protection for homes and businesses. This nationally recognized course covers theoretical and practical aspects of installing Stormseal together with refreshment of the Work Safely at Heights FP1001 course.
During the course we will assist you in developing safe work method statements and risk assessments for installing Stormseal film while working at height. This course will enable you to comply with current WHS legislation, with successful trainees receiving a nationally recognized Statement of Attainment.
Stormseal installation at heights training is focused on Stormseal film installation together with fall prevention rather than fall arrest. It is designed to equip workers with the knowledge and skills to safely install Stormseal in any height situation, primarily being aimed at insurance works and mainstream construction, including residential & commercial as well as strata & maintenance.
Optimum Academy recognizes that while there is a standard set of learning outcomes for this course, the context and environment in which the learning is applied is varied. The course will be customized to suit unique workplace requirements. Training covers risk assessment, selection and correct use of Stormseal products, and rigging of anchor systems, fall restraint, work positioning and fall arrest systems.
Class cost is $465

*Prerequisite requirement is FP1001-RR fall protection training for residential roofing. This course is offered through ENSA in conjunction with the Stormseal course and costs $425

For every non-certified installation crew there must be one certified installer.
All certifications issued through ENSA North America.
COURSE OUTLINE
Regulations and legislation
Stormseal product overview
Stormseal installation instruction and practical
Risk assessment and hazard elimination
Equipment selection and use
Anchor systems, selecting solid and reliable anchorage, with focus on temporary anchor systems on residential roofs
Fall restraint systems, selection of equipment and correct use
Work positioning systems, selection of equipment and correct use
The use of Stormseal in an "at-height" environment
Fall arrest systems
Using energy absorbing lanyards
Correct use of ladders and ladder safety training
INCLUSIONS
Training conducted by a Stormseal-approved Height Safety Specialist
One 10-hour day of training. Up to 8 trainees per course. A typical course runs from 8:00 am - 5:00 pm
Knowledge on relevant legislation and national standards for working at height
Recommendations and advice for specialized PPE and equipment for your particular workplace
Advice on risk control methods for the type of work at height to be undertaken
Plenty of practical, hands-on training to ensure workers can be safe at height
Receive a nationally recognized Stormseal accredited installer card
Train on Stormseal purpose-built simulators
Gain access to Stormseal's proprietary online ordering system
To Register visit: https://www.stormsealtraining.com/registration